Owner, ATC, CSCS
After more than 25 years of experience in the Sports Medicine and Sports Performance industry, my wife, Jenny, and I decided to pursue our passion and start our own business in Sports Performance. After graduating from University of Southern Maine where I pioneered the Athletic Training degree program, I quickly gained certifications as a Certified Athletic Trainer (ATC) and Strength and Conditioning Coach (CSCS). Since then, I have been a leader in the fields of Sports Performance and Athletic Training. In addition to presenting and publishing at the regional and national level consistently throughout my career, I designed and managed the OA Performance Center, one of New England's first fully integrated Sports Medicine, Physical Therapy, and Sports Performance facilities. Prior to this I was an Athletic Trainer and Strength Coach for the Boston Red Sox, the University of Southern Maine, and in the Cape Cod Baseball League. My true passion is the game of baseball and have specialized in analyzing and correcting throwing mechanics of injured baseball athletes from youth sports all the way up to the professional athlete. My concentration in this area of Sports Medicine has allowed me to help hundreds of athletes rehabilitate from injury, improved their delivery, and throw harder. My love for Sports Medicine, Sports Performance, and coaching led me to create Skolfield Sports Performance, an avenue for aspiring athletes to reach their full potential. I believe a comprehensive approach to sports development is the key to athletic success. My goal is to bring the most complete training experience to our clients. I have been married to my wife Jenny for 20 years, and have two sons Kyle and Casey. I'm an avid outdoorsman and remain active in coaching youth sports.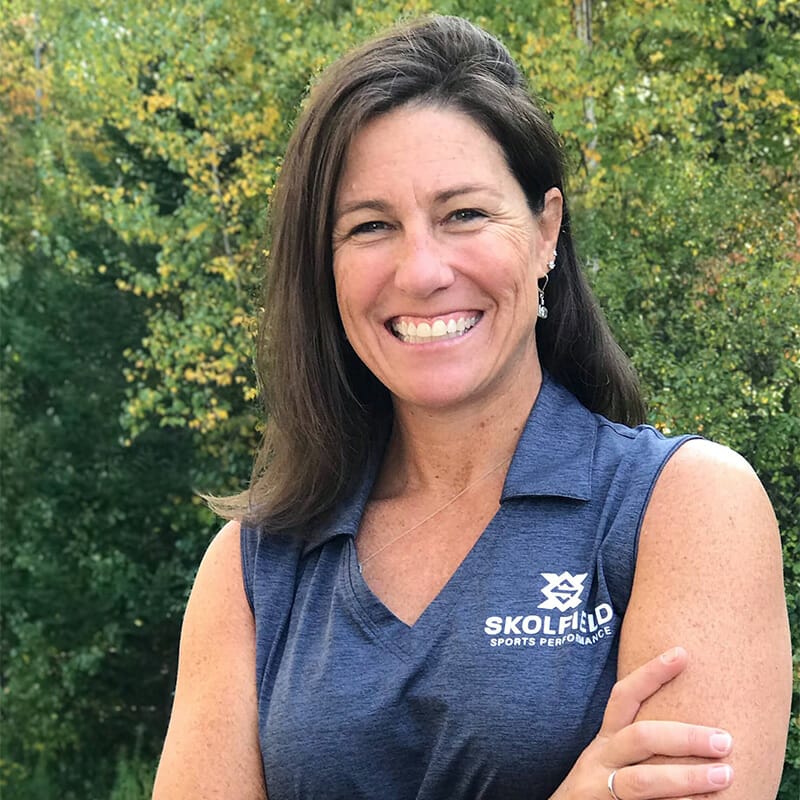 Owner, MS
After 18 years of working as a leader in one of the largest hospitals and healthcare systems in Maine, I decided to take a step back to spend more time with my family and join my husband, Stan, in pursuing our passion of youth and sports development. Having done everything from program management to strategic planning to financial management and operations, having me run the behind the scenes operations of our business while he designed the training was a good match! I am an accomplished athlete having completed two Boston Marathons and countless triathlons culminating an Ironman finish in Mont Tremblant, Canada. Prior to my triathlon years, I spent my athletic time running, snowboarding, rock climbing and mountain biking. I love an athletic challenge as it pushes me physically, mentally, and emotionally. In addition to my own involvement with our two son's baseball community and travel sports organizations, I spent countless days and hours around professional baseball players, coaches and administration while Stan pursued his passion of baseball. "One of my passions is using athletics to empower youth and adults to take on the challenges of getting to the next level because only then will they see the amazing things they are capable of doing…physically, mentally and emotionally!
Performance Coach, CSCS, CF-1, CF-2
I attended the University of New England earning a bachelor's degree in Applied Exercise Science in 2021. Following graduation I completed my NSCA CSCS Certification. While attending UNE, I was a coaching intern at the UNE Strength and Conditioning Facility. Prior to my coaching internship, I earned my CrossFit Level 1 and CrossFit Level 2 certificates and have been instructing group fitness for three years. It brings me great joy and fulfillment to help athletes get to the next level and reach their goals. I'm local to Southern Maine and I played four years of lacrosse at Kennebunk High School. My passion for strength and conditioning originated from training to become better on the lacrosse field. When I am not coaching, I enjoy spending time surfing and snowboarding.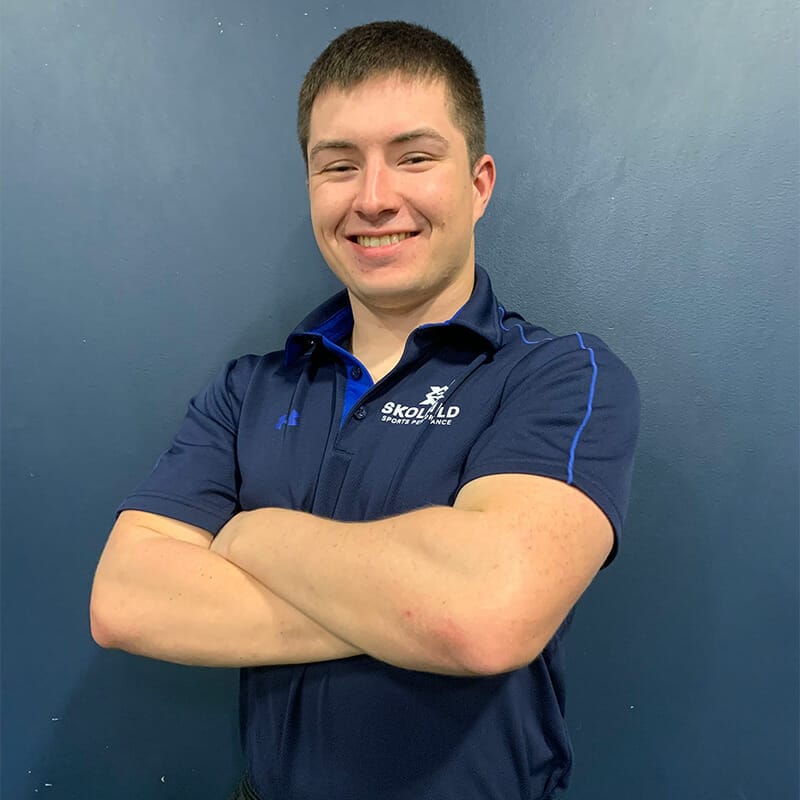 Performance Coach, CSCS
I was born in Biddeford, ME, and attended Biddeford High School where I was a three sport athlete. While I was there, I was a senior captain of my football team, played varsity baseball, and wrestled at the varsity level. After graduating I was recruited and attended the University of New England as part of the first ever football team in school history. Unfortunately, I was injured my freshman year and had to have back surgery. This ended my football career so instead I volunteered to help the team as a student-assistant coach. I am now an assistant coach and help the players in the weight room. My interest in strength and conditioning began my freshman year of high school when I started to train in the weight room for sports. Training in my high school's weight room helped me realize how important it was to get stronger and the impact it had on my performance on the field. This formed a passion for strength and conditioning and led me to pursue this field at UNE. In August of 2021 I received my bachelor's degree in Applied Exercise Science with a minor in Coaching from the University of New England. During my Senior year I applied for an internship at Skolfield Sports Performance, where I learned about program design and how to train athletes. In the Fall of 2021, I was hired as a Performance Coach and I also continue to work with UNE's football team on the field and in the weight room. I love this profession and I want to emulate what my strength coaches have done for me and help other athletes achieve their performance goals.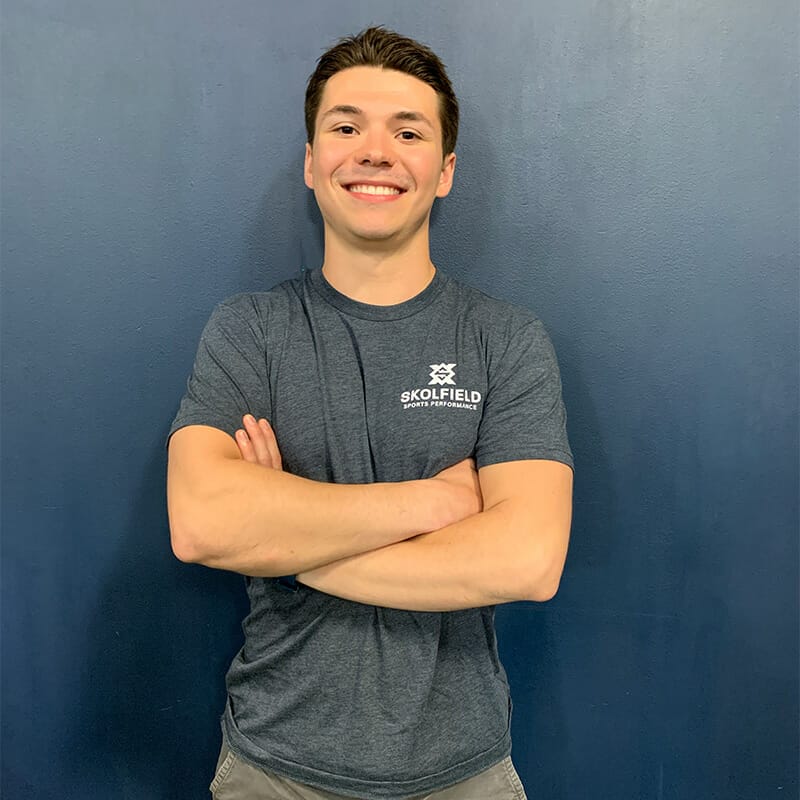 Performance Coach, CSCS
I am from North Yarmouth, ME and graduated from Greely High School in 2017. At Greely, I competed in the Discus and Shotput events as a Track and Field athlete. My larger athletic career took place in the club sport of Gymnastics. I was a competitive gymnast for 10 years and placed 1st on Parallel Bars at the West Point Open and at Regionals in 2015. I later became a gymnastics coach after having retired as the team captain, a position I held for five years. The difficulty of the sport as well as the leadership experience I had gained from being both the team captain and team coach piqued my interest in a military lifestyle to further develop those skills. This ultimately led to my attendance at Norwich University. At Norwich, I joined the Corps of Cadets as a freshman in 2017. I held rank for four consecutive years, the last of which being Cadet First Lieutenant where I was the Assistant Officer in Charge of Public Affairs. In 2019, I joined the Swim & Dive team where we went on to win the Greater Northern Eastern Conference. In 2021, I graduated with my Bachelor's of Science in Health Science. Not only did athletics develop my leadership skills but it also drove me into the sports performance career field. I often found myself spending early mornings and late nights at the gym or in barracks rehabbing old injuries and strengthening myself to accommodate the physical demands of the Corps of Cadets and athletics. I decided to switch my major from Mechanical Engineering to Health Science for my sophomore year to gain a deeper understanding of what I found myself intrinsically doing each day. After receiving my degree, I worked as a personal trainer to gain more coaching experience in a gym setting. In April of 2022, I received my CSCS and transitioned my career focus and skill set towards Sport Performance which has been incredibly rewarding. Since graduating, I am back home in North Yarmouth. I'm an avid hiker and rock climber.
Performance Coach
Born and raised in Derry, New Hampshire, I graduated from Pinkerton Academy as a three-sport athlete with a passion for healthy living and exercise. After high school, I attended Lasell University to pursue my Bachelor of Science degree. During my time in Newton, MA, I was captain of the Division III Lacrosse team where I earned IWLCA Academic honors. In May 2022, I graduated Cum Laude with a degree in Exercise Science and a minor in Psychology. I decided to go into the field of strength and conditioning because of the impact it has on athletic success in performance. In college, I participated in two rehabilitation science internships, cumulating over 300 hours of work. Here, I learned how to relate classroom work to practical application. It is an honor to be able to apply my passion for science and biomechanics to an athlete's skillset to test their limits and make them better at their sport. As a true New England native, I love spending time outdoors in all four seasons. I enjoy skiing, hiking, boating, and much more. I can also be found attending Red Sox or Bruins games with friends and family in my free time!
Performance Coach
I am from Danvers, MA and attended Danvers high school where I played golf, hockey, and baseball. After high school, I graduated from the University of New England with a major in Applied Exercise Science in 2023. I played varsity golf at UNE for all 4 years that I attended.
What got me into the field of strength and conditioning is my love of athletics and exercise. I worked as a performance coach through high school and college back home and have completed multiple internships in the field of physical therapy.  I will continue my education at UNE through their DPT graduate program.
I now live in Portland, ME with my roommate and my favorite hobby is playing golf with friends and family at new courses all over New England. One of my favorite things to do in my down time is to go to Seadogs games or other live sporting events. My favorite teams are the Boston Bruins and the New England Patriots.
Get started
Click the button below to book your free phone consultation. Find out what's stopping you or your child from reaching their athletic goals and how we can help!
Get started by filling out the form below and scheduling your free phone consult.
Take the first steps to getting the results you want!
Book Consult